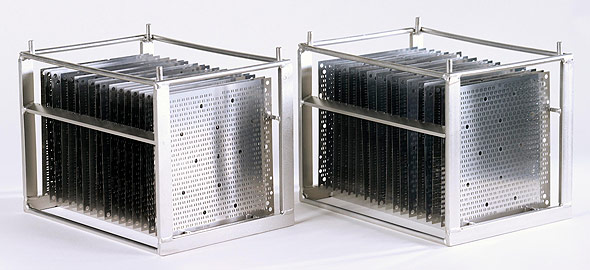 Besides the typical applications in the tool- and automotive-industry, ab solut Chemie GmbH developped in the course of its business also a variety of customized removal methods for special applications in subjects like optic, jewelry and decorative coatings, electronics and solar technology, f. e. for:
Lenses and optical glasses
Watches and Jewelry-industry
Fittings and Utensils
ITO Coatings LED Displays
Solar Panels
Aluminium, zinc die castings (Oldtimer cars)
Lenses and optical glasses
Anti-reflection or hard coatings consisting mostly of metal and silicon oxides are removed gently by a process especially developped for in the manner that any critical optical properties are not adversely affected. Also MgF2 containing coatings are now accessable for a decoating at very moderate conditions.
Watches and Jewlry-industry
The trend in the watch and jewelry industry is clearly towards to finishing with decorative coatings. In predominantly cases it concerns DLC or metal containing carbon layers. The technical challenge of stripping exists in the diversity of materials also mostly used as composite (housing, solder connections) to which we pay special attention by appropriate formulations.
Fittings and Utensils
In contrast to the jewelry the classic coating like TiN, TiCN and ZrN, but also partly DLC its have their decorative applications. In general the parts are made of stainless steel, brass, copper, ZAMAK or aluminum, some coated with a galvanic nickel or hard chrome coating. Our decoating methods are designed to remove selectively only the decorative layer and to preserve the galvanic coatings at same time.
ITO Coatings LED Displays/Solarmodule
For the cleaning of LED displays with an ITO or other photoactive coating the recovery of indium and other highly valuable precious metals is primarily in the focus. Here, the indium-and precious-metal content is separated from the residual liquor and recovered separately by then specialized recycling companies.
Produktdatenblatt Spezial-Produkte (1.3 MiB, 1,467 hits)