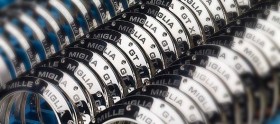 Nowadays, parts from the Automotive-Industry (f. e. Common Rail Diesel Systems, Valve-Controls, Cam- and Crank-Shafts) or other components are exclusively improved by tribological coatings.
Due to their complexity and depth of production the return of  coated -by mistake components into production is indispensable even solely for costs reason.
ab solut Chemie GmbH offers the perfect decoating service to you – started by free of – surface impact decoating via cleaning up to corrosive protection after treatment.
It doesn't matter for the decoating, whether the adhesive layer has been applied based on chromium, titanium or recently on silicon base.
On request, we can selectively remove only the DLC phase.
In any case, the decoated components are immediately recoatable without any refinishing. Moreover, after stripping the surfaces are highly pure and free from any contamination.